The 411's Boston Hotel Recommendations
These hotels are perfect for after a Boston sporting event, concert, date night, girls night out, or anything in between. These hotels range in price but are all stunning and 5-star hotels in our opinion. We have stayed at all of these hotels besides the Mandarin Oriental which is on our wishlist.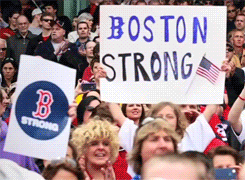 Verb Hotel - This is a cute boutique hotel but is made to make you feel like a rockstar. This hotel is close to The House of Blues and Fenway Park.
Hotel Commonwealth - This hotel overlooks Fenway Park. It is fancy but very cozy and the rooms are huge! 
Intercontinental Boston - I recently stayed at this hotel for Nick's birthday and it is within walking distance to the Seaport and overlooks the water. The spa at this hotel is awesome! The windows in this hotel are floor to ceiling which is very cool. 
Boston Marriott Copley Place - This hotel is connected to the Prudential Center and is perfect for a shopping day! This hotel has lots of floors so if you get a room higher up, you can look over what feels like all of Boston.
Kimpton Onyx Hotel - This hotel is perfect if you are doing something at TD Garden. It is less than a 3-minute walk and has some yummy restaurant right next to it. 
Hyatt Centric Faneuil Hall Boston - This hotel is located in downtown Boston which is great for shopping and bar hopping. These hotel rooms have multiple windows with a great view. 
Hilton Boston Logan Airport- This is the perfect hotel to stay at while traveling. It has an awesome restaurant and is connected to the airport so you never have to walk outside.
Liberty Hotel - This hotel is located in Beacon Hill and is walking distance to so many awesome sights and restaurants. The rooms are spacious with windows that have a nice view. 
Marriott Long Wharf - This oceanfront hotel is stunning. You have the option between city view and waterfront. 
Mandarin Oriental - This hotel is on my wishlist of places to go. It is so beautiful but it is very expensive.
Hope this was helpful. Enjoy your stay!! xoxo
Sara and Julia
Most recent stay was at the Intercontinental and The Verb